94%increase in transactions
156%increase in ecommerce conversion rate
132%increase in revenue
87%improvement in ROAS
Challenge
A holistic marketing strategy taking Doulton's digital to the next level.
Before partnering with us, Doulton were working with a collection of smaller agencies to fulfil their marketing needs. At a period of company growth, they were understandably looking to streamline this.
With lower-than-desired brand awareness and consumer engagement, team Extreme's digital expertise was just the ticket. Doulton saw us as the perfect digital partner to knit together all aspects of their online marketing strategy under one roof — email, social media, PR, content, pay-per-click advertising, SEO, design and campaign strategy.


Vision
A flowing, data-driven approach catering to all aspects of the user journey.
From a customer's first interaction with the Doulton brand through to repeat purchasing and advocacy, every single aspect of a customer's journey was to be considered.
For this, we envisioned a comprehensive, multi-channel approach broken down into four distinct phases — awareness, consideration, decision and advocacy.
Doulton was not necessarily a household name (yet!). Growing organic search visibility was crucial; those searching for water filtration, health and wellness solutions needed to be aware of the Doulton brand.
A PR outreach campaign was planned to drive brand recognition, with a targeted social strategy to reach out to cold audiences quickly.
Moving through the user journey, customers were to be served the right content across the right medium, improving Doulton's brand position within the marketplace.
To boost conversion rates and generate a strong return on advertising spend (ROAS), education, visibility and audience refinement were crucial.


Our technical bods were able to identify and iron out some of the issues which were holding back the organic performance of Doulton's website, putting it in a great position to start bringing in more traffic.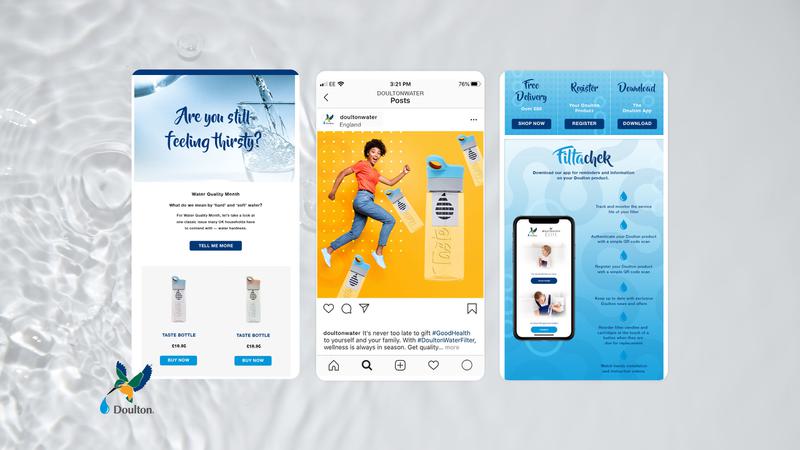 Craft
Pooling our technical expertise to drive awareness and sales.
The talents of team Extreme were used to full effect.

Driven by as much keyword data as possible, a content map was created which formed the bedrock of our site optimisation strategy. Extreme's SEO and copywriting teams worked closely to overhaul priority pages to drive more traffic and awareness.
A behavioural, data-driven approach underpinned our email strategy. By ensuring marketing material was relevant to users, we created a personalised experience of the Doulton brand — whether driving attention to products, or for user education.
Our paid advertising strategy fed into each point of the customer journey, with insight-led audience and demographic segmentation and messaging tailoring. Newly-structured product search campaigns were created, with refinements to the structure of shopping campaigns to drive efficiencies and conversions.
We captured the imagination of Doulton's current and prospective customers with a totally refreshed social media strategy. A cornerstone of this was the use of creative video content, with an exciting social content calendar to educate and engage users on key audience interests: health, wellbeing and sustainability.
Dynamic product ads were implemented to drive conversions, and by sourcing brand partnerships, we were able to elevate awareness amongst other communities with a similar audience to Doulton's.
"It was a pleasure to see just how quickly the Extreme team embraced Doulton. Matching our commitment and enthusiasm for our brand, combined with an excitement for our range of products."
Related projects
Fancy a good ol' chat about the values of marketing to your business?
Drop Us a Line