152%increase in reach
60%increase in Engagements
45%increase in customers looking for their nearest store
Challenge
Getting the message heard in a Nisa and Cadbury busy retail period.
The hubbub of activity that surrounds Easter presents a challenge to marketers. What was essential was a distinctive, concise campaign that cuts through the digital noise — a tough nut (or egg?) to crack.
It was our aim to drive online social followers to where it really, ultimately matters — into Nisa stores. We needed to raise awareness of the Cadbury product range available.


A cross-channel, seasonal campaign that turned online fans into real, physical footfall.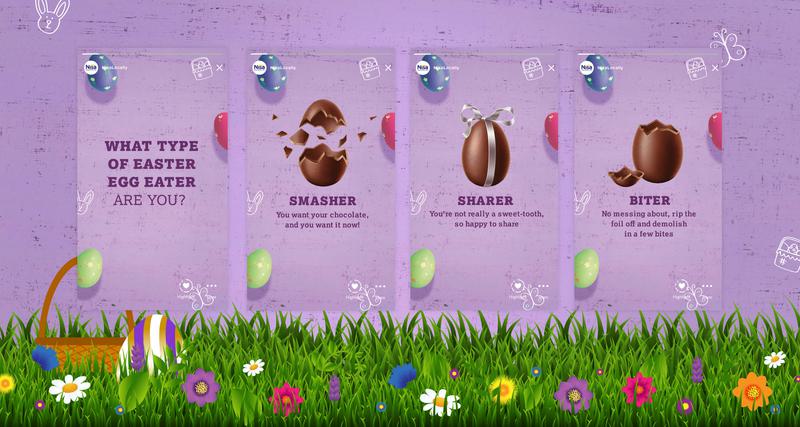 Vision
A campaign to get bums off seats and into Nisa stores.
We envisioned an eye-catching campaign to bring Cadbury and Nisa to the forefront of customers' minds. This would involve an engaging mechanism to drive store visits, supported by a steady stream of carefully-targeted social and online content.
To amplify this message, we wanted everything to be backed by appropriate messaging and strategic influencer marketing.


Craft
Engaging, thought-provoking and cross-channel content.
Our strategy focused around an in-store competition, supported with engaging online content underpinned by #NisaCadburyEggHunt.
Our central competition mechanic was supported with a cross-channel marketing push: organic and paid social, influencer marketing, onsite content, as well as email marketing.
This stream of social content focused on a variety of engaging themes, making use of GIFs and instructional recipes. We also took advantage of social mechanics to drum up engagement and hype for Cadbury and Nisa.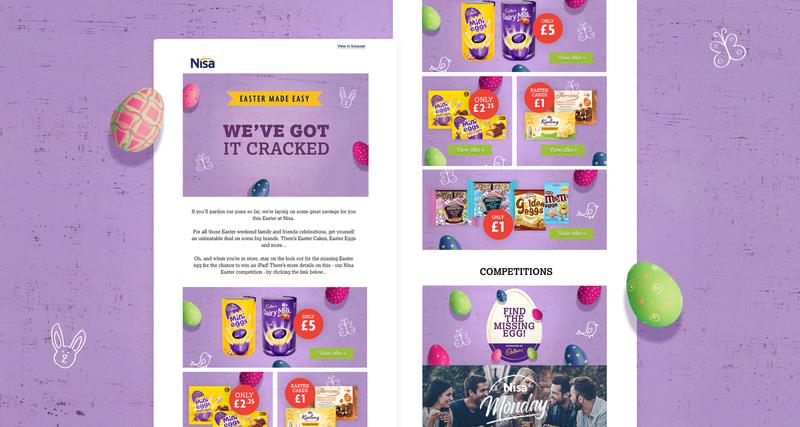 Deliver
A creative campaign that delivered tangible results and drove footfall.
During the Easter period, we recorded a 44.4% increase in visits to the Nisa store locator (demonstrating clear intent to visit a local store).
Over this limited period, we also saw a 52% lift in impressions on social media and 60% campaign-specific engagements.
Having partnered with six carefully-chosen influencers, each joining in the #NisaCadburyEggHunt as well as sharing their Easter recipes and crafts, this campaign's reach extended to new customers. Hoppy days!

Our targeted approach and finding the right influencers for the brand resulted in 152.35% increase in reach via Influencer activity.
152%increase in reach
60%increase in Engagements
45%increase in customers looking for their nearest store
Related projects
Fancy a good ol' chat about the values of marketing to your business?
Drop Us a Line