Challenge
To smash big KPIs with a hugely diverse, worldwide audience.
ICOACHKIDS' mission is to help kids get the most out of sport by providing youth coaches with free resources to up their game. At the heart of this movement is the ICOACHKIDS website, designed and built (by us!) as the ultimate learning tool for youth coaches.
Our task was to quickly and efficiently make a large, global community aware of the new website and get them exploring the hundreds of free, multilingual resources.
Previously, these resources had been gated, and registering to view them was a bug bear for many users. Communicating that login was no longer required would form part of our key messaging to win back trust.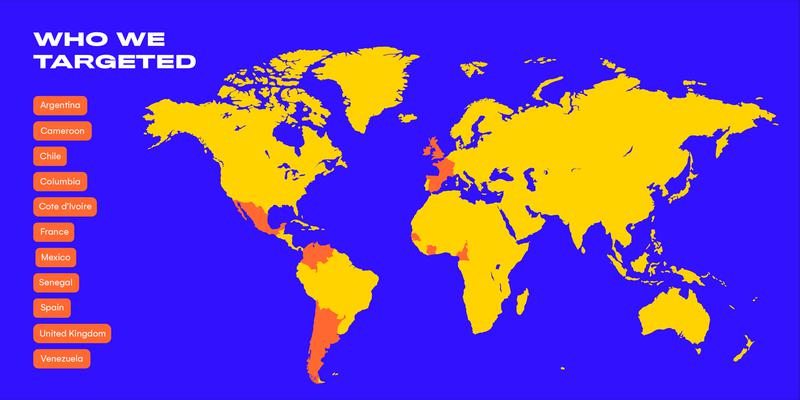 A social-first marketing strategy to reach the coaching community and position the newly-launched ICOACHKIDS website as the ultimate resource for youth coaches, globally.

Vision
To connect with youth sport coaches across the world.
We kept our paid social strategy simple, with one core objective — to drive high volumes of relevant traffic to the resources section of the new website using Meta link click campaigns. Each audience would have its own dedicated budget and set of (translated) creatives.
Our organic social activity was centred around two key channels, X (formerly Twitter) and Instagram as this is where ICOACHKIDS' have built their most engaged, global community.
Supporting this from the sidelines, we also knew ICOACHKIDS had a strong fanbase of email subscribers who have been there from humble beginnings, and so making them a part of this launch was crucial in our targeting plans.
From a creative point of view, we planned to heavily focus on the interface of the site itself using a series of screengrabs, video walkthroughs, feature calls outs and 'old site vs new site' comparisons.

"Numbers of people coming to the website continues to rise at an amazing rate. This is a credit to the awesome work you and your team continue to do!"

Craft
Getting the ball rolling with stunning creative and winning execution.
Our paid social approach was proactive and dynamic, with budgets weighted in real-time towards countries with the best results. Enticing walkthroughs and eye-catching creative was published in multilingual ads, driving strategically-targeted users to ICOACHKIDS.
A dedicated paid social dashboard within GA4 and weekly tracker allowed us to closely monitor results, understanding which channels were supporting each objective.
Aligned with paid social, we followed a creative-first approach for our organic activity. We wanted to drive brand consistency around the launch with content used in both the social ads and in organic posts.
On X, we made use of polls as a means of generating data as well as piquing users' curiosity and engagement. For Instagram, Reels played a big part in driving organic awareness and engagement.
When it came to email, we delivered two focused campaigns: one to announce the website launch, and another to share resources.

Deliver
A home run.
This nine-week campaign was MVP, showcasing ICOACHKIDS' excellent new website and all the fantastic resources contained within.
Paid social was an essential component for exceeding our traffic KPIs, accounting for around 90% of all sessions during the campaign period. Audiences in the UK and French speaking countries were particularly engaged, helping us to score significantly above average click-through rates of around 6-7%.
Video featured in the top performing creative across all campaigns, with one particular asset being responsible for 99.8% of all link clicks!
As we're sure you'll agree, there were no own goals here — in fact, we exceeded our objectives! As well as what's listed below, we also achieved…

8.4m impressions

5.31% avg. click-through rate

302% against target for sessions via organic & paid social to the new ICOACHKIDS site.

198% against target for coach engagements through organic social media content
117%against target for coaches reached
302%against target for sessions via organic & paid
198%against target for engagement with coaches
Related projects
Fancy a good ol' chat about the values of marketing to your business?
Drop Us a Line