21%Increase in Glorious! soup sales from one major UK supermarket
880KPeople in our target market reached through micro-influencer marketing
48%Increase in Instagram fans
531%YOY increase in impressions
Challenge
Standing out in the soup market to increase market share.
Following one of the hottest summers on record, soup season finally arrived, and with it, the opportunity for Glorious! to let shoppers know that soup was back on the menu.
Having managed their social media activity in-house, Glorious! wanted us to create an exciting campaign would increase awareness and bring the adventurous personality back to their brand.


Creating a standout social identity to bring back the brand's adventurous spirit.


Vision
Inspire shoppers to 'ban the boring' and be more adventurous with their soup selection.
Whilst conducting our own market research, we discovered that: soup competitors all adopted a similar visual style on social; Glorious! had the largest social presence but a low engagement rate; bowl food was the big trend; recipe UGC was popular amongst FMCG brands.
With multiple audiences to consider, from vegans and vegetarians to health-conscious millennials and our gluten-free friends, the content strategy would need to ensure we delivered the right message to the right person at the right time.


Craft
Implementing a bold brand repositioning strategy.
We developed and implemented a bold new social identity and tone of voice for Glorious! Soup. This was a lively and energetic — adventurous, curious and relatable for target audiences.
To make each Glorious! range distinguishable, and the feed visually engaging, we assigned a 'bold' accent colour for each.
We also utilised photography, graphics and motion to bring a playful element to the feed — giving the pots personality.
#BoldBowls was a user-generated content (UGC) that kicked off our work with Glorious!. Followers and shoppers were invited to 'show us their #BoldBowls' on social media channels. The campaign was promoted using a series of creative video posts and stories, driving conversation around tasty toppings, delicious dunkers and added adventurous ingredients. How did followers transform a bowl of soup into a #BoldBowl?
To further increase reach and awareness, micro-influencers we also invited to submit their #BoldBowls and share the campaign with their highly-engaged followers.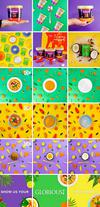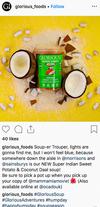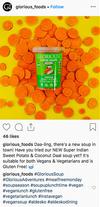 Deliver
Bringing out the Glorious! brand on social media.

Previously indistinguishable and languishing in comparison to its competitors, this campaign has helped to elevate Glorious! to an industry leader for cross-channel social engagement.
In just over a year, Glorious moved to first position for social engagements on Instagram; over the same period, we also increased Instagram fans by 48%. This is in addition to a 531% increase in impressions, year-on-year. Our influencer marketing also helped the brand to reach hundreds of thousands of additional target audience.
We like to think we've recaptured the Glorious! spirit of adventure — and award judges seem to have agreed! This work was a winner at the Social Media Communications Awards for the category of Best Strategic Use of Social Media. We'll drink (soup) to that!
Related projects
Fancy a good ol' chat about the values of marketing to your business?
Drop Us a Line