69.5%increase in revenue from organic sessions
16.7%increase in organic sessions
209top three rankings gained
Challenge
Driving brand discoverability and trust in a competitive industry with complicated user journeys.
With luxury holiday parks across Cornwall, Norfolk, Suffolk and the New Forest, Lovat Parks call some special places home, priding themselves on their incredible customer service and picture-postcard locations.
But the domestic tourism industry can be pretty competitive. As Lovat offers holidays, camping and ownership, they need to carefully cater to a number of different user journeys.
What's common to all of these user journeys, however, is that they can be complex and lengthy. As users weigh up the locations, the park amenities, lodges, things to do nearby and a host of other factors, researching and planning a holiday (or holiday home purchase) can take weeks, months — or even years.


A holistic, multi-pronged approach to content optimisation and creation that grew visibility, sessions and revenue.


Vision
A multi-pronged approach to capture these customers and position Lovat in front of them at varied stages of their user journey.
Our aim was to connect Lovat Parks with their target audience as they start their holiday or home-from-home ownership user journey in certain locations.
This would mean creating content specifically targeting sales and their offering, but also ensuring Lovat are visible when users look for things to do and places to see in different regions.
By appearing time and again in search results as customers conduct their research, we aimed to drive organic traffic, build trust, and establish Lovat Parks as an expert on these regions.




Craft
Technical groundwork followed by content optimisation and creation.
Our project strategy and approach had a number of key stages…

Performance benchmarking - through combining Google Analytics, Google Search Console and site-wide ranking data, we were able to assess current performance and identify the key traffic-driving and converting pages that we would prioritise first.

Identifying user intent - by creating a keyword to content map we were able to understand the intended role each page would play when it came to serving different search intent and driving traffic to the site.

Priority page optimisation - we identified 63 pages with traffic-driving potential that fell within the holidays, ownership and park pages. Each page was overhauled with unique, search-optimised content based on extensive topic research and a detailed analysis of organic search results to ensure our pages could outperform those of competitors.

Content hub - by creating content that promotes each location, we placed Lovat in front of target audiences when they search for things to do in these regions. Rather than relying on the pre-existing blog for content creation — where older content is buried deeper and deeper — we created a content 'hub' based on discovering the various regions where Lovat operate. A structured content hub like this allows on-site users to search by region, surfacing content that's relevant to them. It also helps Google to understand the content, boosting topical authority and increasing Lovat's ability to rank for other searches related to these topics.


Deliver
Destination: soaring search visibility, organic sessions and revenue — and the UK Content Awards 2023.
An uptick in search rankings, organic sessions and organic revenue duly revealed itself in the weeks and months following our SEO and content project.

The execution and results of this campaign were even acknowledged at the prestigious UK Content Awards 2023 in the category of Travel/Leisure Content Campaign of the Year!
69.5%increase in revenue from organic sessions
16.7%increase in organic sessions
209top three rankings gained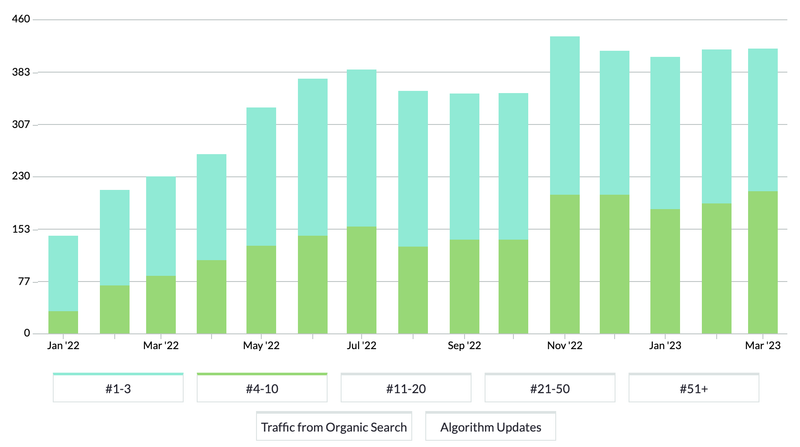 Related projects
Fancy a good ol' chat about the values of marketing to your business?
Drop Us a Line