Challenge
Something old, something new, some come to dine - others say 'I do'!
Hosting parties, corporate get togethers and community events, but primarily weddings, the brand needed to incorporate just as much flexibility as the venue itself. With such a diverse range of couples who often have their own creative vision for their day, we needed to find a balance between acting as a source of inspiration to wedding couples, and simply being a backdrop for them to express their own personalities.



Vision
A combination of history, heritage and horticulture.
The Sun Pavilion is one of a kind, both in an architectural sense as well as in terms of its location on grounds which have more mineral springs than any known place. The connection between the building and its stunning garden surroundings is key to why people visit or even choose to get married here. It was important that we communicated these details through the brand.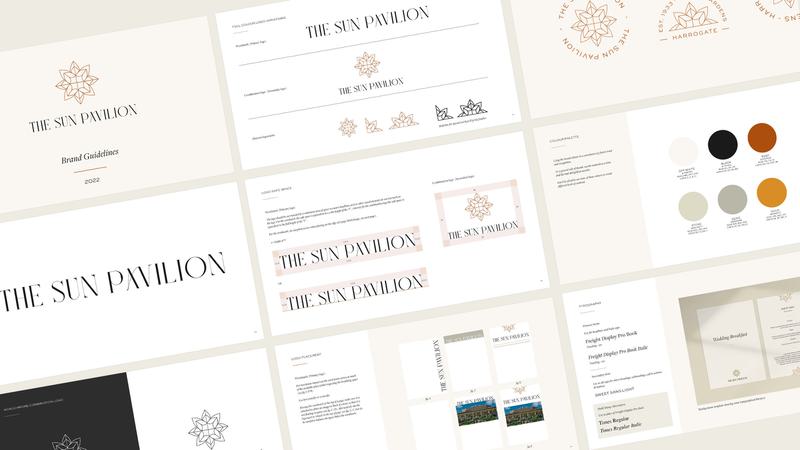 Situated in Harrogate's historic Valley Gardens - just across the street from our office - is the Grade II listed Sun Pavilion. With its resplendent location, wrap-around terrace and art deco stained glass dome, it's a picture-perfect venue. We took all that history and beauty and turned it into a fully formed brand that allows uniqueness to shine.


Craft
Form and function.
With the stained glass dome being such a dramatic feature of the building, it made sense to look closer at the art deco design within. After experimenting with several shapes and repeating patterns from the centre of the dome, it was the petal shape within the vase design on the outer edge of the dome that caught our attention.
It gave an art deco feel without being an exact copy of an existing design. On further experimentation, the tessellated 'petal' worked as an art deco style corner piece as well as a full 'flower' or 'sun' emblem.
The abstract logo mark (or emblem) captures all the key elements of The Sun Pavilion - its heritage, its location and its namesake.
In addition to the logo mark, the word mark - used alone or in combination with the logo mark - is also art deco-art nouveau inspired, with a distinctive flourish which gives a feminine, but not exclusively so, touch.
Just as carefully was the brand colour palette considered, to provide a neutral backdrop for stunning photography but also to provide warmth, like that of the sun and the colours from the garden's magnificent dahlia display.



Deliver
A modern, elegant brand identity which nods to the past whilst providing a dynamic canvas for the future.
Developing a full set of brand guidelines enabled the full design and development of The Sun Pavilion website as well as other digital assets for social and email.
The website draws focus to photography and testimonials from delighted event hosts and wedding couples. The visual portfolio style website ensures that visitors can see what the venue looks like inside and out, on various occasions throughout the year with an option to filter weddings by season. The goal was to provide inspiration and give visitors space to imagine their own event.
Additionally, since imagery for each case study or 'Happily ever after' is photographed by a different supplier, couples planning their day have the opportunity to potentially hire their dream photographer along with their dream venue, with details linking out to the suppliers website or social profile.



Related projects
Fancy a good ol' chat about the values of marketing to your business?
Drop Us a Line